Tacky, tacky, tacky!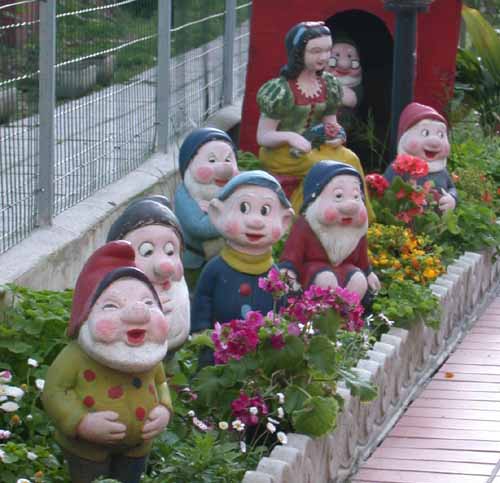 We have to endure this stuff. I think we better get out of this place. The first fellow is about to hurl, no?

These tacky dwarves were on the island of Burano, in the harbor. It is known as the lace-making island, and has the prettiest colored houses. These were in a back alley. I have no idea, absolutely no idea, what inspired the inhabitants to fill their little garden area with these dreadful dwarves!
Hi Slava, Happy Birthday to you! We will drink a toast to your honor all day today. Especially since it's really wet and nasty out, we have to make it warm and nice inside. Give Xenia our love and thanks for the use of her laptop. We actually have a connection at the apartment. Love -- M and JB
Hi Joe, Right now it's pretty wet and grey. Raining hard with wind. So I recommend checking the Venetian weather forecast before you come. When it rains it is cold. I started a still life indoors. You and Ed could do that or go to museums and copy art work there if it rains when you come. But there is heat in the apartment, it's spacious and there is wine, grappa, espresso, hot chocolate to make everyone warmer. Talk to you soon. -- M
Weather has been sunny in the morning and cloudy in the afternoon, which is great, since the mists in Venice are very romantic.
Images, webpage designs, and Web Spin © JB 2001-2023 [-]